Climb Mount Kenya – Technical Routes to Point Peter, Batian and Nelion Peaks
Jeremy Gane spent a week climbing on Mt Kenya in August of this year. Here he details his experience of Mt Kenya's technical routes, including the climb to the highest peak, Batian.
The true summit of Mount Kenya, Africa's second highest mountain, is made up of two peaks, Batian and Nelion, connected by an airy ridge known as the Gate of Mists. Batian is 11 metres higher than Nelion.
Batian, on the north side of the massif, is the more demanding route, and can be climbed in the Northern Hemisphere summer months – July and August work best. Nelion is best climbed in the months of January and February to get maximum sun on the south facing route.
My climb Mount Kenya trip of August 2015 took me to Point Peter, Hausberg Col and then part way up Batian Route to Firmin's Tower. We spent three days actually rock climbing and two days walking in and one day walking out.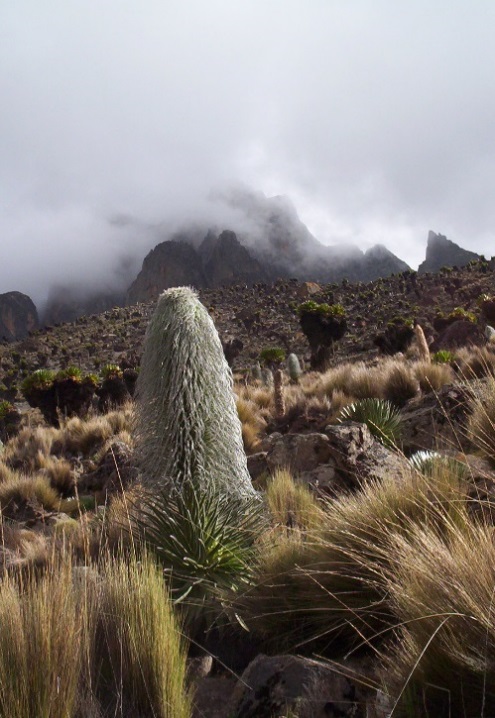 Our base was Shipton's Camp, in a superb location at the head of Mackinder's Valley. The walk-in via Old Moses Camp on the Sirimon Route took in some fabulous scenery.
Point Peter made for an excellent introduction to rock climbing on Mt. Kenya; and the ascent gave my guide Kim the chance to learn my limitations before we embarked on Batian!
At 4747ms./15600ft. the climb gives some great altitude preparation too! The sharp peak of Point Peter is clearly visible from Shipton's camp and it takes about one hour to walk to the route start. For a leisurely climb of this Grade IV route allow around two hours up and one hour down. There are a couple of tricky pitches and the summit is airy. Abseiling part of the descent gives great practice.
We descended to Shipton's in good spirits and enjoyed late afternoon sun and a big dinner cooked by our great cook Peter.
However in 24 hours' time the weather was to turn and demonstrate that the high elevation of Mt Kenya can unleash weather that is hard to endure.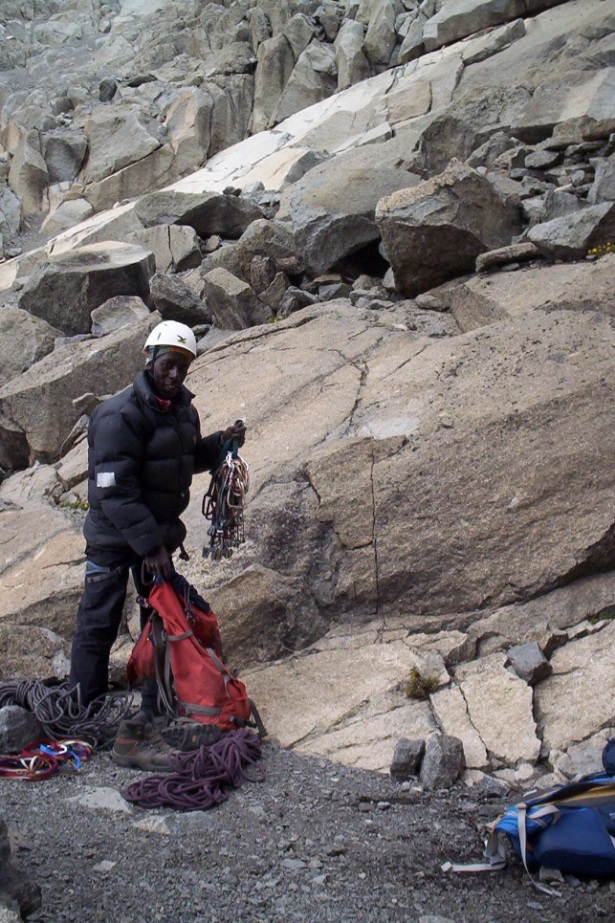 Our second day of climbing was to be a part climb of Batian to check out the lower pitches that lead to the Amphitheatre, which is often used as a bivouac site.
Walking in with the kit takes around 90 minutes and involves following the trail for the Lenana trek and then diverting off across scree and loose rock fields to the base of the climb.
Maddeningly the first pitches are quite tricky and I only got myself and pack of gear up with some difficulty. Then with only one more tricky section we made it to the Amphitheatre and enjoyed sun and picnic lunch.
We descended with four abseils of around 40ms and some down climbing. As we came off the lower slopes and headed back to Shipton's, snow and sleet came down. This reminded me of a previous time on Mt Kenya (over fifteen years earlier) when snow and biting cold winds had made the trek to Point Lenana hard enough.
It was at this time that we decided that a bivouac was not going to be an option for us on the next day. Instead we should climb as high as possible and then return in one day. I was cold and nervous that night, my unhappiness increased as I had managed to spill my bowl of washing water in the tent and having mopped up with towel and T shirt I was shivering and thinking ahead nervously to the 0430hrs AM start as the sleet drove down onto the tent's canvas!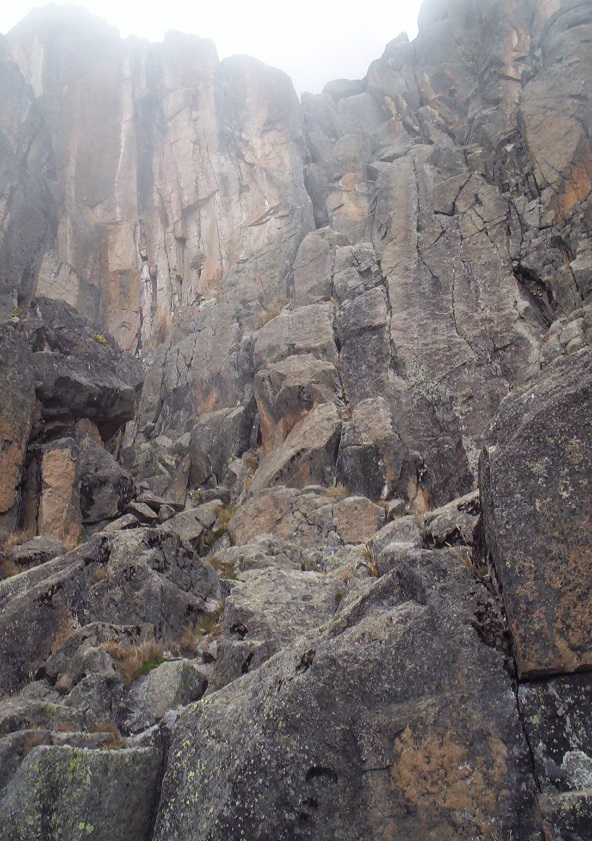 Our final climbing day began with a chilly wake up at 0430hrs and then the walk back to Batian North Face route start. This time I managed better the two demanding pitches en route back to the Amphitheatre.
Above the amphitheatre we made a short climb and then crossed scree and rubble to the foot of Firmin's Tower – the crux of Batian Route. We climb a crack to the right side of Firmin's Tower and gain airy views over the massive West Face of Mt Kenya. Coming off Firmin's Tower the route crosses the Knife Edge before heading up in the direction of Shipton's Notch.
At this point, and given the relatively slow pace of my climbing and the poor weather, we decided to end the climb and start the numerous abseils back down.
By the time we reached the base, our climb day had involved around 14 pitches en route up to Firmin's Tower and 9 abseils (30 to 50ms.) to get off the mountain.
 


Climb Mount Kenya – In summary:
Batian Route is best attempted by seasoned multi-pitch climbers who are comfortable at 5+ grades. The high altitude adds an additional level of difficulty. For me the guidance and climbing practice imparted by my superb technical climb guide, Kim, enabled me to push the frontiers of my climbing to new highs. One should not simply look at the grading of these pitches (V+ being the hardest) but also take into account the impact of the altitude. Any technical moves in the range of 4500-4900ms (Firmin's Tower summit is over 4900ms/16000ft.) and with ice and damp, some of the holds are harder to achieve than at lower altitudes. So I am very proud of my climb of Firmin's Tower on Batian Route, Mt Kenya.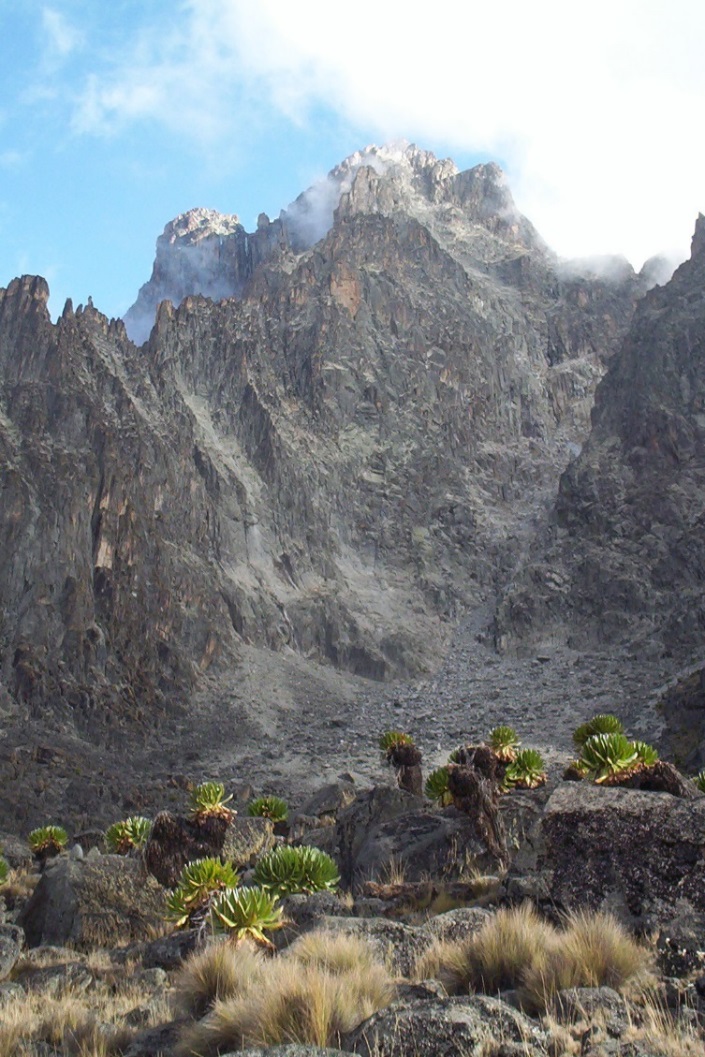 For richness of flora and fauna, and for beautiful scenery, Mt Kenya is the equal of any peak in Africa. The mountain encompasses a variety of distinct ecological zones, ranging from savannah grassland, through tropical rainforest, bamboo and heather zones, to the snow and ice summit.
The lower slopes of Mt Kenya are covered in dense rainforest home to elephant, buffalo and antelope, while the upper slopes are host to a climate and terrain that is almost alpine in character, a land of barren heath and icy valleys, not unlike the dramatic landscapes of the Rwenzori Mountains.
The trek to Point Lenana offers the high altitude walker all these wonderful sights.
Parts of Batian and Nelion are still glaciated and during the monsoon seasons much snow falls on Mount Kenya.
 Do you still want to Climb Mount Kenya – read more here.