Those in receipt of our newsletter will know that we've just cut the cost of our brown bear and polar bear tours to Finland and Canada this year by as much as £600 per person. You can now travel to Finland for a weekend bear-viewing tour for £595pp before flights, or track Polar Bears in Arctic Canada for only £2695pp. These great offers on our bear-viewing tours are only available for a select period.

Big savings on bear tours in Finland
The spring sun is shining in northern Finland and the first bears have just been seen emerging from their winter hibernation. The coming summer months of June-August are the very best time of year to visit Finland's wildlife reserves, as the young bears are discovering their environment and the weather is at its most pleasant.
To mark the start of the bear-viewing season, we're offering £50 per person off our Finland wildlife programmes over £500 and £100 off per person on programmes over £1000, meaning you can now enjoy a three-day bear-viewing tour for as little as £595 per person.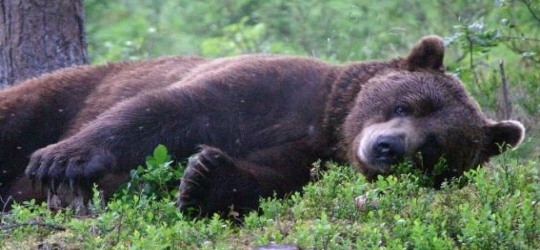 Bear watching in Martinselkosen
This three-day short break is an ideal wildlife getaway to one of Europe's premier bear locations. The Martinselkosen Nature Reserve is among the best places in Finland to see and photograph brown bears at close range and in their natural habitat. Here you will spend two nights accompanied by a specialist guide in a comfortable and discreet hide situated right in the pine forest, prime bear-viewing territory! The cost of this itinerary without international flights is from £645 per person, or £595 with our spring discount, and includes all accommodation, meals and local transport.
Wildlife and Huskies in Wild Taiga
The Wild Taiga area, situated in Eastern Finland on the Russian border, is a land of pure, untamed nature, its geography dominated by hills, forests, lakes, rivers and mires—a haven for wildlife. This tour includes four nights in wilderness hides giving you the chance to observe and photograph bears, wolves, and wolverines in their natural habitat, safely in the presence of a trained guide. You will also spend one day on a local husky farm where you will become acquainted with these wonderful dogs and their host. The cost of this itinerary before international flights is from £1250 per person, or £1150 with our spring discount. Again, all accommodation, meals and local transport are included in the cost.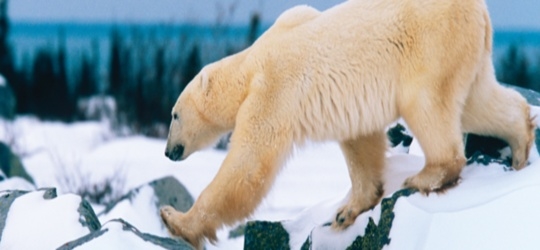 Huge Polar Bear savings!
We are offering huge savings on our Polar Bear tours to Arctic Canada, as much as £600 off per person!
Our Polar bear tours take place in the region around Churchill, Canada, home to the world's most concentrated population of polar bears. The WWF estimates that there are approximately 1,000 polar bears that gather along the western shore of Hudson Bay each fall, waiting for the ice to freeze. However, the current situation of a warming climate and melting ice sheet is threatening the future of the bears meaning there is no better time to see these Kings of the north than now.
These expeditions offer multiple opportunities to venture onto the tundra in custom vehicles created especially for polar bear viewing. With huge windows, open observation decks and a steel mesh grate, you won't find a better-designed vehicle from which to observe these stunning creatures. On any given day you may see a solitary adult or several dozen bears, including cubs, scouring the coastline waiting for it to freeze.
Prices for our 6-day polar bear tour now start at only £2695pp, down from £3195pp – a saving of £600 per person! Similar discounts apply to our 7-day and expert photography tours. These discounts apply to selected dates only and places are likely to fill up fast! Take advantage of these exceptional savings on the following selection of 2014 departures:
Polar Bears of Churchill (6 Days), October 14-19, October 19-24 and November 15-20
Polar Bears of Churchill (7 Days), November 9-15
Polar Bears of Churchill (expert photography tour), November 11-17
Book by June 15th to take advantage of these savings
We offer many more programmes in Finland, Canada and to other specialist wildlife destinations around the world. To learn more, contact Sarah Williams on +44 (0)1822 600 126 or Sarah@Ganeandmarshall.com. Sarah manages our World Wildlife programmes and will be glad to help you plan the perfect wildlife holiday.
Keep an eye out for our upcoming blog and newsletter detailing our summer travel offers. We've some great offers lined up on holidays to South Africa, Tanzania, the Arctic and Peru, among other destinations, as well as fantastic deals on accommodation.