Discover our Arctic Cruises at spectacular prices – departing 2014
Our luxury Arctic Cruises will take you to one of the furthest ends of the Earth. The polar regions are among the last true wilderness areas in existence, and there's no better way to explore them than on one of our Arctic Cruises, where you can enjoy the unique wildlife and spectacular scenery of the Arctic up close and in comfort.
There a number of Arctic Cruises  that travel to this polar region, offering between them a wide range of travel options, dates and prices. At Gane and Marshall we work with a selection of the best operators in order to provide you with the most exciting itineraries at the best available rates. Whatever your preferences – luxury or mid-range, small or medium vessel, short or extended expedition – we can help you choose a cruise programme that meets your requirements.
Arctic Cruises visiting Greenland, Spitsbergen and the North Atlantic Islands take place during our summer and vary in duration from 7 to 21 days.  On your Arctic cruise you will sail among enormous icebergs, pack-ice and whales; explore beautiful fjords and glaciers; and examine polar bears, seals and sea bird colonies at close range. Have you always wanted to see the Northern Lights? The Lofoten Islands are located at exactly the right latitude for seeing the Aurora Borealis.
The vessels used on Arctic cruises are ice strengthened and comply with the highest international safety standards. Gane and Marshall offer our clients small and medium-sized vessels (generally between 20 and 130 passengers). All expedition vessels offer a comfortable, friendly and informal atmosphere. You will travel with experienced guides and polar specialists. Lectures are provided in the evenings while on ship, allowing you to learn more about the natural history of the Arctic region.
For the more adventurous, a number of Arctic cruises include various activities such as camping, kayaking, soft climbing and hiking – please contact us for further details.
Call us on – 01822 600 600 – for last minute availability on Arctic Cruises departing in 2014
Special Offer – Arctic Cruises – Bowhead Whale Safari Voyage – Free charter flights!
On this Arctic cruise voyage in Disko Bay, you can observe Greenland Whales among the gigantic icebergs of the Illulissat Ice-fjord. This 8 day Arctic voyage departs May 22 – May 29, 2014 on board s/v Rembrandt van Rijn. This 3 mast-schooner is well suited for expedition cruising among the fjords of Greenland. The vessel offers good open deck viewing areas, even under sail.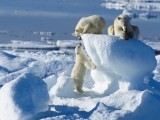 Book your Arctic Cruise – From only £1575 per person.
To discuss other Arctic Cruises options, please contact us. We will always work hard to secure you the best rates. We will also ensure that you travel with an experienced Arctic cruise operator and on a small or medium-sized vessel.
We also have a variety of offers on Antactic Cruises to take you to the opposite end of our world.
For those who prefer a warmer climate at this time of year –  you can consider a cruise around the wildlife paradise Galapagos Islands, or perhaps a relaxing cruise down the amazing Amazon River.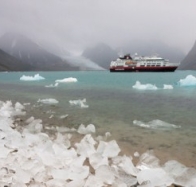 What is your favourite adventure cruise destination? Do tell us your travel tales using the comment option below.
Whatever your adventure holiday needs – Contact Gane and Marshall 
T: 01822 600 600
E: info@ganeandmarshall.com
W: www.ganeandmarshall.com