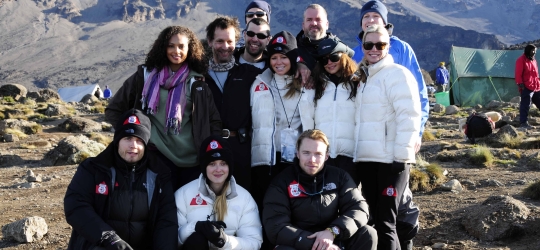 Kilimanjaro
HOW, WHEN, AND WHY TO CLIMB KILIMANJARO & MERU

Keeping it Simple:
Looking to climb Kilimanjaro? Consider one of our excellent low cost Shira8 or Rongai6 Fixed Departures, or alternatively choose a Private Climb for you and your friends.
Our routes and price charts for 2012 and 2013 (below) will help you to decide which climbing route best suits you. And of course feel free to contact us by phone or email to discuss your requirements.
The general rates chart lists the different routes and rates according to your group size.
How much does it Cost?
Prices for 2011 start from USD1805 for the Six Days Rongai Route Fixed Departure Small Groups departing most Sundays in the climb season. Shira Eight Days climbs departing most Fridays in Arusha cost USD2330 per person. Contact us for a personalised costing or click here for  Jan-Jun 2013 prices or here for July-Dec 2013 prices.
For those in a hurry Rongai Six Day climbs are a viable option, but please note that your chances of reaching the summit will be reduced by the shorter time you'll have to acclimatise to the altitude.
These rates for 2013 include one free map for every two bookings made together; and we are now staffing our climbs with one qualified mountain guide for every two climbers! 
Gane and Marshall sponsor the Kilimanjaro Information Web Pages, which you can visit for more information about routes, climate, flora, fauna and geology.
When to climb?
The best seasons to climb Kilimanjaro are December to March and June to October.
You may want to climb Kilimanjaro (or Meru) when the moon is full or nearly full. Reaching your chosen peak in the period of 3-4 days before or after the full moon will still ensure a moon-lit climb. Please see: Moon Phase Chart
Why climb with Gane and Marshall?

When you choose a climb operator you will want to consider the advice you receive; about the routes best suited to you, about clothing and equipment, and about the conditions and climate on the mountain. Our climbs are comprehensively documented and each climber receives a very full and useful information pack.
You will also want to be assured that your climb team will be fully qualified to keep you safe and that they will be able to manage risk. In the unlikely event of an accident they will be able to administer First Aid and carry out a rescue. Equally, you will want your climb team to be expert at recognising symptoms of altitude sickness and to be able to judge whether or not you can continue safely with your once-in-a-lifetime climb. This is mainly down to experience and training, and re-training of the climb teams. It is also down to the way the climb team members from the chief guide to the youngest porter are treated, remunerated and themselves fed and sheltered on the mountain. Gand and Marshall give considerable attention to all of the above. To judge for yourself, please read about our partnership with the independent association, Kilimanjaro Porters Assistance project, and our work with Tourism Concern in the paragraph below.
Responsible Climb Operation: We are members of Tourism Concern's Ethical Tour Operators Group and also members of IMEC, who support the Kilimanjaro Porters Assistance Project. We also fund one scholarship per annum for the Kilimanjaro Scholarships Foundation. Through the charity Community Projects Africa, which Jeremy Gane ran as Trustee and secretary from 2005 to 2011, Gane and Marshall and our clients have supported a number of projects in the Kilimanjaro, Monduli and Arusha regions.
In short, when choosing your climb operator, we hope that you consider the following: all of the pre-climb support and information you receive, the quality of service and equipment on the mountain, and the positive partnership your operator has with the climb team and the north Tanzania community.
How about a Safari or Beach Extension?
We offer safaris to spectacular game viewing regions such as Serengeti and Ngorongoro. Ideal for climbers we offer Safari Specials to North Tanzania (half day, one day, three days, and five days). Please also note that we can tailor-make a safari specially for you - and always at the most competitive prices.
Zanzibar, Pangani and the coast around Dar all offer a wide range of beach extensions for as low at USD70 pppnt. Check our extensive selection of coastal places to stay. Call or email us for help with choosing the right beach property at the right price for you.
COMIC RELIEF CELEBRITY CLIMB 100% SUCCESSFUL:
Gane and Marshall have been organizing Kilimanjaro climbs since 1991. In 2009 Jeremy Gane was  project manager and guide for the Comic Relief celebrity Kilimanjaro climb with Cheryl Cole, Gary Barlow and other A list celebrities. The entire group of 34 climbers including all the media teams summited successfully. Over USD3 million was raised by the climbers for Comic Relief projects in Africa including a most important project to distribute impregnated malaria nets to millions of children under the age of five years. You can see our video here. Read the BBC News Report, and/or Travel Africa Magazine (Summer 2009) with an article by Jeremy Gane about planning your Kilimanjaro climb.

Example itineraries in Kilimanjaro
Perfect altitude acclimatisation for Kilimanjaro on Africa's fourth highest summit - Mount Meru. Climb Meru via Miriakamba and Saddle hut over four days, adn also view distant Uhuru from Little Meru Peak. Then on to Kilimanjaro for a 6 days climb on Rongai route going via Mawenzi Tarn, Gilmans Point and Uhuru Peak, descent being on the Marangu Route.
Kilimanjaro Northern Circuit 9 Day Itinerary
This unique and spectacular itinerary gives an nine day climb via Shira Plateau, the northern flank, Gilmans Point and Uhuru Point. The descent is via the scenic, wilderness Mweka Route.
Kilimanjaro Shira Route 8 Day Itinerary
An eight days trek commencing in the west, crossing Shira Plateau, and going for the summit - Uhuru - via Barranco Wall, Karanga Valley, Barafu Route and Stella Point. The descent is via Mweka Route. We offer regular small group departures commencing in Arusha most Fridays during the climbing seasons.