Zambia
A Zambia safari exposes quintessential Africa. Its national parks are enormous, remote and little visited by tourists, while the camps are small and rustic with excellent safari guides and an intimate atmosphere. Contact us now to take advantage of special offers and book your tailor-made zambia safari with Gane and Marshall.

Zambia is located on a vast plateau with three of Africa's largest rivers - the Zambezi, Kafue and Luangwa - ensuring a lush landscape with superb wildlife. The floodplains of the Bangweulu Swamps create a massive water-wilderness of reed islands and are home to many rare animals including the shoebill stork and black lechwe. 

The Luangwa Valley is famous for some of the best traditional walking and bush camping safaris in Africa. Here night game drives also offer an excellent chance of seeing leopard.

The Victoria Falls divides Zambia from its neighbour Zimbabwe and here you will find many adrenalin sports (bungee jumping, white water rafting, abseiling) as well as the opportunity to relax by the shores of the great Zambezi and visit the Falls.

South Luangwa and Lower Zambezi also have some fantastic luxury safari houses catering for families or groups of up to 8 people (min age 7). Each house has a swimming pool and comes with its own driver / guide and cook.
TRAVEL ADVICE
Zambia's dry season runs from June to October.

Zambia's green season runs April, May and November.

We can offer very good discounts for travel in the green season.

Zambia combines well with time on the shores of Lake Malawi.

Walking zambia safaris and night drives are Zambian highlights, with leopard often seen.

Regions in Zambia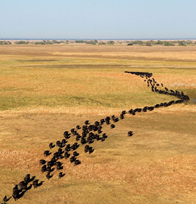 Kafue National Park, the largest in Zambia, provides a unique safari in an exceptional wilderness area.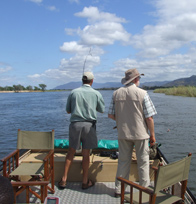 The Lower Zambezi National Park is situated on the North bank of the Zambezi River in south eastern Zambia.
This remote tract of land, covering 4636 square kilometres, offers one of the finest wilderness experiences in Zambia, if not Africa.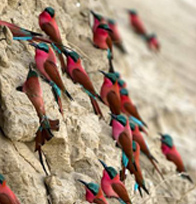 South Luangwa is the most famous park in Zambia and one of Africa's finest wildlife sanctuaries.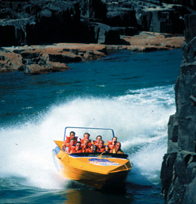 The Victoria Falls, by some measures the largest in the world, are a truly spectacular sight.
Example itineraries in Zambia
Zambia's premier National Park, the South Luangwa Valley is one of Africa's greatest wildlife sanctuaries, famed for its pristine scenery and huge quantities of game.
Discover the game-rich Mfuwe area of the South Luangwa National Park and enjoy the luxury of some of Zambia's finest safari camps in this 5 day walking safari.
This safari takes place on two of Zambia's main rivers, the Luangwa and the Zambezi, both of which offer excellent game-viewing activities.
These canoe safaris operate along both sides of the Lower Zambezi River taking in the best of what the river has to offer. From the South bank the trips run through the Mana Pools National Park of Zimbabwe while the North bank itineraries travel through Game management areas and the Lower Zambezi National Park, effectively ending in Zambia. Ideal to add on to a main safari to South Luangwa, Vic Falls, and Kafue.